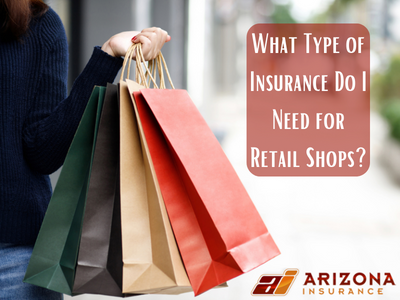 Running a retail business comes with its share of challenges and risks, from potential accidents in your store to unforeseen events that could disrupt your operations. To protect your investment and ensure the smooth operation of your retail shop, it's essential to have the right insurance coverage in place.
Understanding the Types of Insurances for Retail Shops
General Liability Insurance:
General liability insurance is a fundamental coverage that all retail shops should have. It provides protection in case a customer or third party is injured while on your premises or if their property is damaged due to your business operations. General liability insurance can cover medical expenses, legal fees, and settlement costs, reducing your financial burden in case of a lawsuit.
Property Insurance:
Property insurance is vital for protecting your physical assets, including your retail store, inventory, equipment, and fixtures. It covers damages caused by various perils such as fire, theft, vandalism, or natural disasters. Having property insurance ensures that you can repair or replace essential assets and continue your business operations after a covered loss.
Business Interruption Insurance:
In the event of a covered loss that forces your retail shop to temporarily close, business interruption insurance can be a lifesaver. It helps cover the loss of income and ongoing expenses, such as rent and employee salaries, during the period of restoration. This coverage ensures that your business can weather the storm and recover without financial strain.
Product Liability Insurance:
If your retail shop sells products, product liability insurance is crucial. It provides protection in case one of the products you sell causes harm to a customer or property damage. Even if you don't manufacture the products, you can still be held liable, making this coverage essential for retailers.
Commercial Auto Insurance:
If your retail business uses vehicles for deliveries or any other business-related purposes, commercial auto insurance is necessary. Personal auto insurance typically doesn't cover accidents or damages that occur while using vehicles for business activities. Commercial auto insurance ensures that your business vehicles are adequately protected.
Workers' Compensation Insurance:
If you have employees working in your retail shop, workers' compensation insurance is typically required by law. It provides coverage for medical expenses and lost wages in case an employee is injured or becomes ill due to their job. Workers' compensation insurance protects both your employees and your business.
Cyber Liability Insurance:
As retail shops increasingly rely on digital platforms for transactions and customer data storage, cyber liability insurance is becoming more important. It helps cover the costs associated with data breaches, including notifying affected parties, legal fees, and public relations efforts to restore your business's reputation.
Crime Insurance:
Crime insurance provides protection against various crimes, such as theft, embezzlement, and fraud, which can occur in a retail setting. It covers the loss of money, merchandise, or other assets resulting from criminal activities.
Investing in the right insurance coverage for your retail shop is a critical aspect of responsible business ownership. Each type of insurance serves as a safeguard against different risks and liabilities that your business may encounter. While the specific insurance needs of your retail shop may vary based on factors such as size, location, and industry niche, having a comprehensive insurance portfolio in place can provide you with peace of mind and financial security, allowing you to focus on growing and thriving in the competitive retail landscape.