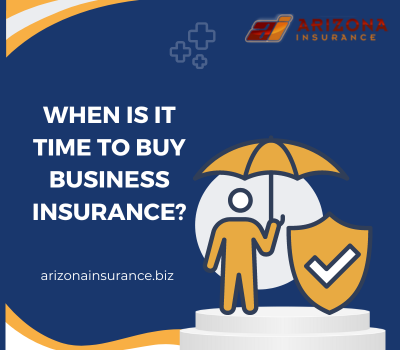 Starting and operating a business is a significant investment of time, effort, and resources. As a business owner, you're exposed to various risks and uncertainties that can impact your financial stability and the future of your enterprise. To safeguard your business against unexpected events, purchasing business insurance is essential.
When Should You Buy Business Insurance?
Business Launch:
As soon as you start your business, it's wise to consider insurance coverage. Even if your business is small or home-based, accidents or liabilities can occur. Basic insurance options such as general liability insurance can provide protection from potential lawsuits or property damage claims.
Hiring Employees:
When you hire employees, you take on additional responsibilities and liabilities. Workers' compensation insurance becomes crucial at this stage, as it provides coverage for workplace injuries and helps protect your employees and your business.
Acquiring Commercial Property:
If your business involves owning or renting commercial property, consider property insurance. It safeguards your physical assets, such as the building, equipment, inventory, and supplies, against events like fires, theft, or natural disasters.
Expanding Operations:
Business expansion often involves increased risk exposure. Expanding your product lines, opening new locations, or entering new markets may require additional insurance coverage to protect against unforeseen challenges and liabilities.
Taking on Investors or Loans:
When you secure investments or loans to fuel growth, investors and lenders may require you to have certain types of insurance. This can include directors and officers (D&O) insurance, which protects against personal liability for management decisions.
Serving Clients and Customers:
If your business provides services or products to clients or customers, consider professional liability insurance. It can protect you from legal claims related to errors, omissions, or negligence in your professional services.
Entering Contracts and Agreements:
When you enter contracts with suppliers, vendors, or clients, they may require you to have insurance coverage. This can include contractual liability insurance, which covers obligations outlined in contracts.
Cybersecurity Concerns:
In today's digital age, cyberattacks and data breaches are a growing threat to businesses of all sizes. Cyber liability insurance can help cover the costs associated with data breaches, including legal fees and customer notifications.
Natural Disaster Risk:
If your business operates in an area prone to natural disasters, such as hurricanes, earthquakes, or floods, consider purchasing specific business insurance coverage for these events to protect your assets and operations.
Legal Requirements:
Some types of insurance, such as workers' compensation or commercial auto insurance, are legally mandated in many jurisdictions. Ensure compliance with local and state regulations by acquiring the necessary coverage.
Peace of Mind:
Lastly, business insurance provides peace of mind. Knowing that your business is protected from unforeseen events allows you to focus on growth and operations without the constant worry of financial setbacks due to unexpected liabilities.
Determining when to buy business insurance depends on your specific circumstances and the nature of your business. However, it's generally advisable to consider insurance from the outset and periodically review and update your coverage as your business evolves. Insurance is a vital component of risk management, and investing in the right policies can safeguard your business's future and provide valuable protection against the uncertainties of entrepreneurship.
Whether you're searching for homeowners insurance, business insurance, or have questions about workers comp, please feel free to contact our office at any time and we would be more than happy to assist you.